Custom Design - 5 photo collage pillow cover
00185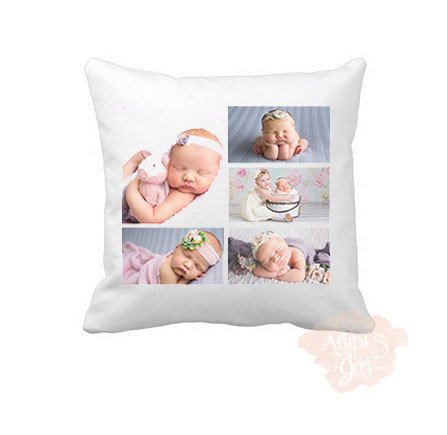 Grab those treasured photos and turn them into a treasured keepsake!

The white pillows are super snuggly. You're going to fall in love! The printing process turns the liquid ink into a gas when the heat from the commercial press is applied. Therefore the photos become a permanent part of the fabric and will not fade, crack, or peel like other printing methods do
Upload your pictures according to which one you want in what photo slot. Please refer to the photo labeled from 1-5.
Pillow Inserts:

If you will be picking up locally you can select a pillow insert (also known as a pillow form). If you are shipping it to your home I do not recommend paying for shipping on these as you can pick them up at a local craft store.
Living Legacy Letters:

I am passionate about people telling each other what they mean to each other! Here is an easy way to do so that will be a lasting legacy of your love and appreciation for that person. For $10 more you can add a letter to someone, an upload of a special loved one's handwriting who has passed away, or a full color picture of you together. The possibilities are endless!
Whatever you choose is printed right into the back of the fabric!
Material:
100% polyester
Care:

Machine wash with like colors and dry on medium to high heat in the dryer.
Living Legacy Letter file upload (if you selected that in the option above)