Custom Design - "Grandparent Love" Pillow Cover (various sizes and styles)
00026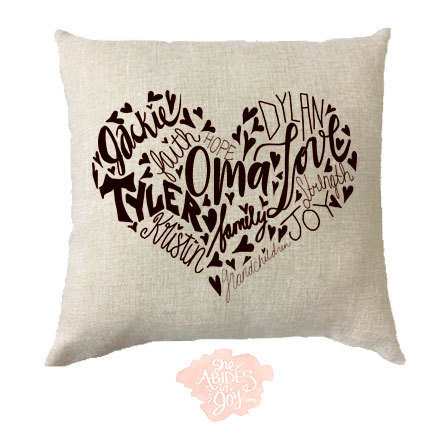 Grandparent Love
Here is a very unique and memorable way to celebrate the special people in your lives! It can be made for grandparents for all their precious grandchildren or for a child or other loved one with character traits that describe them.
The white pillow cases are super snuggly soft pillow cover (pillow insert is separate) that you are sure to fall in love with (your kids too!). The faux linen pillow covers are sure to make an elegant statement to whatever room they adorn. They are stunning!
No matter which option you choose, the process is the same to apply your selected design(s) to the item. They are hand printed with sublimation printing technology. Then it is hand pressed using a commercial grade heat press which takes the liquid ink into a gas state, thus becoming part of the fabric. It's truly amazing!

Pillow Inserts:

If you will be picking up locally you can select a pillow insert. If you are shipping it to your home I do not recommend paying for shipping on these as you can pick them up at a local craft store (but if this would be easier for the recipient, I can certainly do so. Shipping will just be a little bit higher).
Living Legacy Letters:

I am passionate about people telling each other what they mean to each other! Here is an easy way to do so that will be a lasting legacy of your love and appreciation for that person. It can be a letter to someone, an upload of a special loved one's handwriting who has passed away, or a full color picture of you together. The possibilities are endless!
Material:
Pillow covers - 100% polyester
Care:

Pillows covers - Machine wash with like colors and dry on medium to high heat in the dryer. Snuggle your pillow frequently for full enjoyment. : )
Name for the center of the pillow
List of grandchildren's names
Other items to add if there is room (character traits, favorite things, etc)
Add this design to another item